Innovation never stops, but Stage 1 of the competition is almost closing: submit your innovative idea by July 5!
Start Cup Piemonte Valle d'Aosta is an initiative promoted by three main Italian university institutions - Politecnico di Torino, Università degli Studi di Torino, Università del Piemonte Orientale - to foster the economic development of the Piedmont and Aosta Valley territory. The competition for the entrepreneurs of tomorrow aims to support the creation of new companies with a high knowledge content, to raise awareness among young people in particular on the theme of innovative entrepreneurship and to offer opportunities to meet companies and financiers.
The competition between business projects on the territory of Piedmont and Valle d'Aosta is organized by the business incubators I3P, 2i3T and Enne3, which select the best candidate ideas for Stage 1 (this year, sent within July 5) and follow the development of their Business Plan for the subsequent Stage 2. Incubators evaluate business ideas based on several criteria, including: technical feasibility, degree of development achieved, originality of the product or service, size of the target market, sustainability of the competitive advantage and prospects for economic growth. To find out more about project evaluation criteria, visit the "How to apply" page.
If you have an innovative idea in mind that you would like to turn into a business, sign up on this website and submit your business proposal within the next few days: it could be the first step of a great adventure!
We have prepared a brief guide to the steps you need to follow to participate in Stage 1, the "Ideas Competition", from developing your innovative proposal to filling out the digital application form.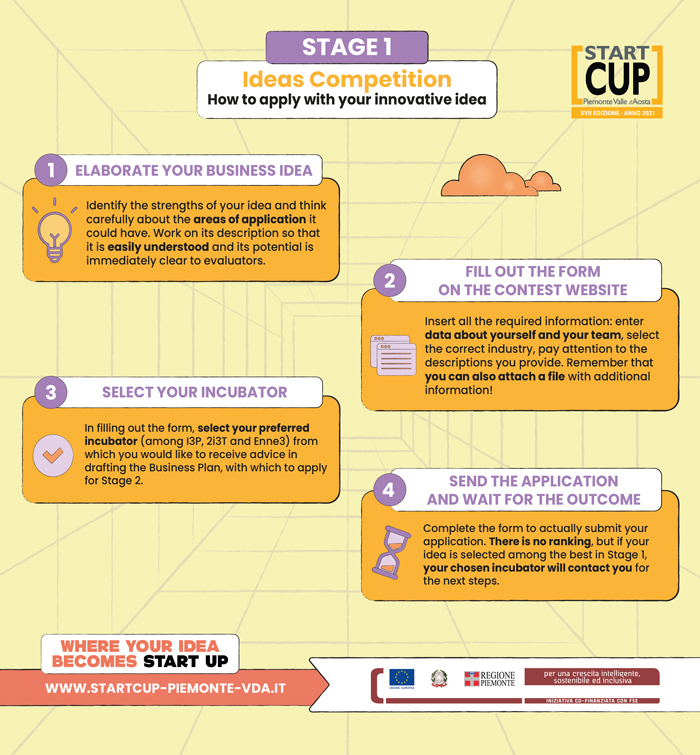 It is also possible to propose several different ideas, applying separately. The teams that submit the best business ideas by the deadline of July 5, 2021 will be contacted by the incubator of preference selected in the application and supported in the creation of a Business Plan, with which to participate in Stage 2 and compete for its cash prizes. The total prize money exceeds 50,000 euros!
We suggest you to read the official rules to learn all the details about the rules of the competition, and then put your idea into play: don't miss this opportunity to enter the world of innovative entrepreneurship!